Trapping Near Trails: Avoid the Controversy
The issue of trapping on public trails has been a hot topic in the news lately.  It seems like every few weeks a story comes out about a hiker's dog being killed in a trap, refuelling debate about how trappers should operate.
New York State recently adopted emergency trapping regulations that made it illegal to set traps that could kill dogs near public trails in the state.  The Nevada Board of Wildlife Commissioners also recently enacted regulations prohibiting trapping within 1,000 feet of designated hiking trails, and prohibiting trapping near trails in Alaska's Chugach State Park is currently being discussed.
Such publicity isn't a good thing for trappers, and the resulting legislation isn't necessarily a good thing either.  Regulations like the ones discussed above arise directly as a result of incidental pets being captured in traps, and can sometimes limit responsible trappers from operating in order to control the problems caused by a few. 
The solution is for us as trappers to educate each other and make sure that the only sets we make near public trails are certain to be dogproof.  It's true that most areas have leash laws and trappers may be operating in a legal manner when a pet is allowed to roam and is killed in a trap.  But sometimes being legally 'in the right' just isn't enough, and can give a bad reputation to trappers everywhere.  Most of these new regulations are a direct result of political action taken by pet owners who have had a bad experience with traps.
The simple fact is that using common sense and not setting potential pet-catching sets near hiking trails is the best way to prevent damaging the reputation of the rest of the trapping community, and should keep trapping regulations from becoming tougher near public trails.
Fur is Eco-Friendly
The thought of wearing fur incites a negative reaction from a portion of the public, but is such a reaction really justified?  After all, fur is a renewable natural resource.  When managed wisely, furbearers can provide recreational and economic benefits to trappers, and play an important part in the global fashion market without harming the environment.  In fact, regulating furbearer populations via responsible trapping can actually provide a healthier environment for many animals.
In the blog she writes for the Missouri Department of Conservation, Outreach and Education Division Chief Lorna Domke recently provided some insight on the concept of eco-friendly fur.     
"….wild furs, unlike much other clothing, do not require use of lots of other natural resources to produce them. When they're taken in a carefully regulated way (which is the only legal trapping allowed), we can have furs, yet maintain a healthy natural world. Furs can be eco-friendly."
Fur Market Info Added
I added a fur market page to the site today.  The page currently only contains a few links to fur buyer / auction sites, but will serve as a place to post related fur market information in the future.  Stay tuned for more updates!
Beaver and Raccoon Can Make Great Table Fare
They might not sound like the tastiest of treats, but a small number of people do eat the meat of certain furbearers, which can taste really great if prepared correctly.  This might not be surprising, considering that beaver and muskrat are herbivores, and raccoons consume a wide variety of food items.  Most other furbearers are predominantly carnivorous (they mostly eat meat), and with the exception of the bobcat, these are not considered suitable for human consumption.  
Beavers have perhaps the longest history of being an important food item, providing a crucial food source for the early mountain men who pursued them for their fur.  In fact, the reason the fur market accepts beaver pelts skinned open (most furs are skinned cased) was because trappers would gut out beavers for food preparation before they were skinned.  In addition to the meat, trappers particularly enjoyed the fatty taste of beaver tail, and often made beaver tail stew.
Despite their popularity as an early food source, very few people eat furbearer meat.  Vicki Mather is one of those few.  She included a recipe for beaver chili in a column written for Canada's Northern Life a few years back.  You can access Vicki's column here.  And if you ever get the opportunity to try beaver meat, be sure that you do.  It really is great!  
Hoofbeats of a Wolfer: A Review
I just finished reading "Hoof Beats of a Wolfer", a coyote trapping book written by L. Craig O'Gorman, predator trapper from eastern Montana.  O'Gorman has been trapping coyotes for decades and has tens of thousands of critters to his name.  He traps and hunts coyotes 12 months out of the year.  His experience in predator control with both the government and independently for sheep ranchers has forced O'Gorman to learn things about coyotes that many fur trappers never do.
Hoofbeats of a Wolfer, published in 1990, is a culmination of O'Gorman's coyote trapping experience and government research and includes excerpts from an earlier book, "The O'Gorman Style of Predator Trapping".  Topics covered include equipment, set types, coyote behavior and many, many other aspects of coyote trapping.  The book's  167 large pages serve as a bible of coyote trapping in the eyes of O'Gorman, and contain information that just isn't covered in most coyote trapping books.
I'm sure O'Gorman would agree with me when I say that "Hoofbeats of a Wolfer" is truly a book for the most serious of coyote trappers – the men who do, or wish to, consistently put up big numbers of coyotes year after year.  It goes way beyond the basics of trapping and really gets into the mind of the coyote, as well as the mindset necessary to capture Wiley E. 
To go into detail about the many aspects of this book would be near impossible.  It really contains so much information, it can be read over and over again, which makes it a great reference for the trapper to return to.  In fact, I've already started reading it a second time around.
While it's a great resource, the book does have a couple of shortcomings.  In a book with such extensive content, better organization of topics would be helpful in allowing readers to easily find specific subject matter.  For instance, I think the 40-plus topics covered in the book could be organized as chapters within three or four broad topics.  Second, the spelling and grammar quality are sub-par, and really don't do justice to the quality of information discussed.  Granted, O'Gorman is a trapper first and a writer second, but I think better editing would have greatly increased the quality of this book.  Still, I believe these shortcomings can be somewhat overlooked in the interest of truly realizing the extensive knowledge provided in the writings.    
In addition to his extensive coverage of proper equipment, coyote behavior and advanced trapping techniques, O'Gorman spends a substantial amount of time in the book acknowledging the pioneers of coyote pursuit, including legends such as Louis Bakken, John Ehn, Slim Pederson and many more.  At the same time, O'Gorman takes numerous shots at people he refers to as the "copy boys", who have apparently jumped on the bandwagon and copied many of his and others' new ideas in the trapping field. 
It's probably his dislike for the "copy boys" and numerous other statements made by O'Gorman that have made him a very controversial subject in the trapping community.  Some will swear by his trapping instruction, books, lures and other products, while others claim that all the 'hype' is unwarranted and other trapping sources provide equal or better results. 
Like him or not, O'Gorman has proven himself an extremely successful figure in the trapping community, and his coyote numbers speak for themselves.  "Hoofbeats of a Wolfer" is a book filled with coyote knowledge, from broad concepts to small tidbits, and provides a unique journey into the mind of a serious and accomplished trapper.      
New York Extends Emergency Trapping Regulations
The New York Department of Environmental Conservation announced last week that it would extend the emergency trapping regulations put in place at the beginning of the 2007 season.  The regulations were adopted to avoid the incidental killing of dogs and other pets with conibear (body gripping) traps set on the ground for raccoon and fisher.
Body gripping traps have revolutionized trapping because they provide a quick, clean kill for most furbearers.  Unfortunately, they sometimes have the potential to kill the occasional pet, when set in the wrong place.  Trappers should always be aware of the potential for catching non-target critters and pets, and try to avoid such situations so that these regulations are not neccessary. 
The emergency rules require specific dog-proof cubby sets when using body grippers, as well as a minimum setback distance from public hiking trails, among other specifics.  The rules will be extended for about two months, and comments will be reviewed and permanent regulations put in place.
Read the list of emergency regulations here
Do Water Trappers Ever Stay Dry?
I fell in again today.  Getting wet seems to be a common occurrence in water trapping, and at times it's as comical as it is frustrating.  Today's episode would have been an amusing one viewed from the bank, but as luck would have it, it was just me and the river. 
The fall was sort of a graceful slide.  I was curious about a beaver flowage on the river I was doing research on, and decided to take a minute to go down and see what kind of beaver activity was present.  I made the fatal mistake of walking on some thin shelf ice at the river's edge, which broke off from the shore and had me sliding down a huge chunk of ice and into the freezing cold water.  Wet and shivering, I retreated back to the truck without bothering to further investigate the flowage.  I guess those beavers are safe for now. 
This coldwater episode wasn't as bad as the "up to my shoulders" dunk I had last year while muskrat season, but it certainly served as a reminder (the occasional dunk always does) that waders don't make you invincible!   
Small Trickles are Great Places to Catch Mink and Muskrats
Narrow areas along small waterways offer a great opportunity to pick up traveling mink and muskrats as they move in search of food and/or shelter.  The location below was the outlet of a small culvert, with a trickle of water leading to a canal.  There were limited locations to set conibears in the canal, but this waterway allowed the perfect opportunity to put in a 110.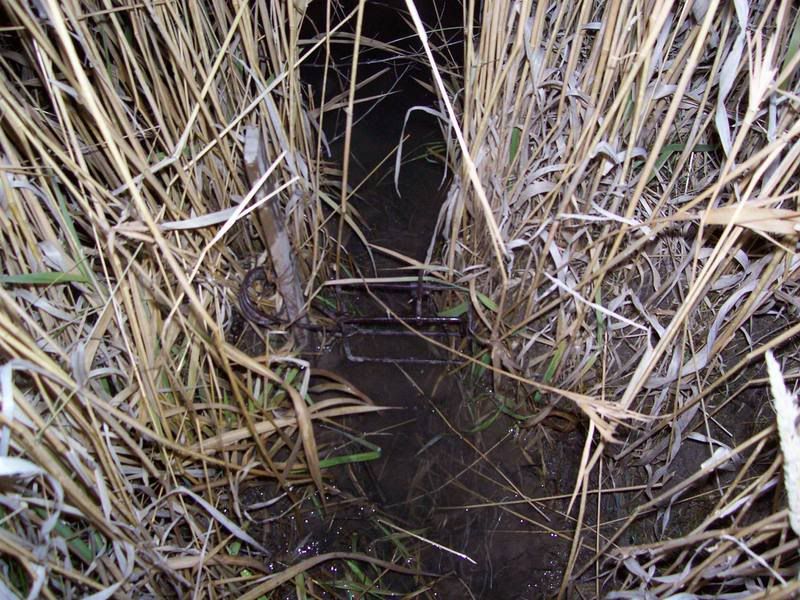 I like to support my small conibears by running a lathe through the spring and pushing it into the ground until it's sturdy (something I picked up from an old Fur-Fish-Game video).  I find it to be the quickest and easiest way to support a 110 conibear.  I made this set with the intention of catching a traveling mink, but a muskrat beat the mink to the punch!
State Trappers Associations Added
Hey Folks,
Things are just getting started here at TrappingToday.com, and I hope to update you with plenty of new content as it arrives.  Today, I added a new page listing all of the state trappers associations in the U.S. (that I'm aware of), with links provided for the Association websites.  You can see the listings by clicking on the 'State Trappers Associations' link at the top of the page.  Enjoy!
Number of Montana Trappers on the Rise
More people in Montana are trapping than ever before, as evidenced by the ever increasing number of licences sold in the past 17 years.  State furbearer biologist Brian Giddings believes that higher pelt prices for species like bobcat and marten are encouraging more outdoorsmen to go trapping.
If you're a trapper in Montana, you may be running into more competition, but remember: far fewer people are pursuing the sport of trapping than in the past, and hopefully more trappers can continue to bring positive publicity to the sport.