Activists Bring Out Their 'Expert' in Lynx Lawsuit
Trapping in northern Maine is under fire yet again, this time with the re-emergence of the Canada lynx lawsuit that rocked the trapping community this past fall and winter.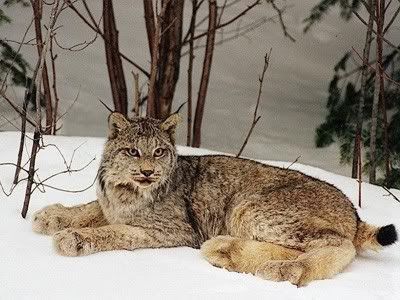 Yesterday in Bangor, federal judge John Woodcock heard testimony in the lawsuit filed by two animal rights groups in an attempt to virtually put an end to trapping in its current form in northern Maine.
In the hearing, the plaintiffs had the opportunity to call their first witness to the stand.  They questioned a self-proclaimed "lynx expert" by the name of Paul Paquet, who claimed that recreational trapping can pose a threat to lynx populations:
"This is a fragile population, and any mortality or injuries that can exacerbate … the decline threatens the population,"
Paquet also mentioned that:
Maine's population of an estimated 500 lynx is too small to be considered viable.
Unfortunately for the animal rights groups that are relying on Paquet as their 'expert biologist', however, Paquet completely failed to mention that Maine's estimated 500 lynx do not act as an isolated population.  They are connected to a much larger, healthy population that is only separated by a political line known as the U.S. – Canadian border.
The lynx population certainly is viable, and where I come from, withholding such obvious and important information is considered lying.
If Paquet had to lie yesterday when answering such easy questions about Maine's lynx population, I'm really interested in hearing how he squirmed in today's hearing, where he was supposed to be cross-examined by the state's attorneys.
Considering his apparent importance to the plaintiffs in this case, you might be wondering who Paul Paquet is, and how much of an expert he really is.  Certainly if the animal rights groups have such strong science and factual basis for their claims, they could get the best experts around to testify for them.  From what I can tell, Paquet is a 'self-employed researcher with affiliations to universities across Canada'.
A self-employed researcher?  I seem to have run into a few of these in the past.  In my experience, this usually means the individual is an animal lover with extreme views, who often caters to the animal rights groups, who usually pay a significant portion of his salary.   Hmmmmm……..    I'm not saying Paquet is such a person……I wouldn't want to judge him, but it sure makes you wonder.
A quick google search brings up a bit of interesting information about Paquet.  Want some background on this guy's expertise?  Check out the following:
The self professed wolf expert, Dr. Paul Paquet, that strung this court along and the Carnegie family along with is incorrect "expert".  This important public safety information has been delayed for over 2 years due to his lies in trying to rewrite what the evidence and eye witnesses clearly saw.   This was not only a miscarriage of justice to the family but put public safety at risk.


I recommend that all data, science and studies reviewed or authored by Dr. Paul Paquet shall be removed from the records of the wolf program and all his information shall be researched again by an independent source.  If this man cannot properly identify a bear or wolf track or even clearly review a mountain of evidence pointing to wolves, what other misinformation has he perpetuated on the current wolf science?
Something to think about.  It isn't Mr. Paquet's first time testifying in court.
Check out the Bangor Daily article on today's hearing.  Be sure to read the comments section at the bottom of the page.  There are certainly some interesting viewpoints!  The article also mentioned that about 20 trappers showed up to the trial, while only 2 people were there to represent the Defenders of Wildlife and Wildlife Alliance of Maine.  It's amazing how much trouble can be caused by deep pockets and a few vocal activists.
The trial is expected to last until Thursday.  Myself and other trappers are hoping that common sense and REAL SCIENCE are represented throughout the remainder of the trial, and responsible trapping is allowed to continue in northern Maine.