Sierra Club Adopts Anti-Trapping Policy
Straight from the horse's mouth, here's the Sierra Club's new anti-trapping policy:
Policy on Trapping of Wildlife
Use of body-gripping devices* – including leghold traps, snares, and Conibear® traps – are
indiscriminate to age, sex and species and typically result in injury, pain, suffering, and/or death
of target and non-target animals.
The Sierra Club considers body-gripping, restraining and killing traps and snares to be
ecologically indiscriminate and unnecessarily inhumane and therefore opposes their use. The
Sierra Club promotes and supports humane, practical and effective methods of mitigating
human-wildlife conflicts and actively discourages the use of inhumane and indiscriminate
methods.
Sierra Club recognizes the rights of indigenous peoples under federal laws and treaties granting
rights of self-determination and rights to pursue subsistence taking of wildlife.
*Body gripping device – includes, but is not limited to, any snare (neck, body, or leg), kill-type
trap (such as the Conibear®), leghold trap (including steel-jaw, padded, offset), and any other
device designed to grip a body or body part. This definition includes any device that may result
in injury or death because of the mechanism of entrapment. Live cage and box traps, and
common rat and mousetraps shall not be considered body-gripping devices.
Board of Directors, May 19, 2012
I'm not sure what to think about this.  One would think that informed members of the Sierra Club would recognize the importance of trapping to sound scientific wildlife management?  This policy is sure to influence the future makeup of the Sierra Club's membership.  Potential members should be fully aware of this policy prior to joining or contributing funding to the organization.
Here's the link to the policy.
Here are a couple of perspectives from sportsmen:
Bill Conners' Sierra Club column
What's New on the Anti-Fur Front
As trappers, we should take the occasional time out to catch up on what's happening in the fur industry.  Sure, the majority of trappers may not be in it for the money, but the reality is that without a market to sell our fur, it would be very difficult to keep trapping.  This is evidenced by the fact that lower fur prices lead to decreased trapping pressure on certain species.  And as we're well aware, this often leads to overpopulation and damage problems from these species.
Fur prices are important to trappers.  They are important to me and other trappers I talk to.  They are also important to the people who visit TrappingToday.com.  The site has been getting a lot of traffic lately, and the majority of the people who get here from search engines like Google are seeking info on fur prices.  It just goes to show that people want to know what's going on with the fur market.
While I wouldn't go so far as to give animal rights activists too much credit for influencing fur prices (at least not yet), they sure can make waves in the fur industry.  Let's take a quick look at some current events that may or may not impact the market for fur.
Truth in Fur Labeling Act
This bill, passed by the U.S. Legislature in 2010, will go into effect March 2011.  It closes a so-called loophole that did not require fur clothing items sold in small quantities or at low prices to be labeled.  For instance, a coat with a coyote-trimmed hood previously did not have to be labeled as containing coyote fur, but now it does.  This law seems like an attempt by the anti's to reduce fur sales to people by making sure they know what they are buying contains real animal fur.  Personally, I think it will backfire on them.  I think lots of folks would actually prefer to wear real fur, and won't be deterred from buying a coat once they know it contains fur.  Plus, it will provide an educational opportunity for folks who don't know the importance that real fur plays in the garment trim trade.
Israeli Fur Ban
Sometime in early 2011, officials in Israel will vote on a proposal to ban all forms of fur and the fur trade in the entire country.  This seems like a goofy stance for a free country like Israel to have, but one must assume that the majority of people in the country have been disconnected from the use of fur for a long time.  The bill has been supported by celebrity activists like Pamela Anderson and Paul McCartney, who are using their fame to push the anti-fur agenda.  The Canadian fur industry has urged Israel to reconsider.  I have a hunch that the bill will pass.  Israel doesn't play a big role in the world fur market, so if passed, it shouldn't have a direct impact on demand.  The more important concern I see is the potential for a ripple effect that would encourage similar bans in other countries.
Stores That Have Stopped Selling Fur
Limited Brands, Wet Seal, Jones Apparel Group, Forever 21 and Papaya are all stores that have discontinued the sale of garments that contain fur.  Luckily for the fur industry, these are not really big retail players.  Supporters of trapping, the fur industry, and sound wildlife management can make a difference by boycotting these stores and purchasing items from stores that support the fur industry.  Writing letters of support to companies that sell real fur garments can help as well.  Many retailers have stopped selling real fur simply due to pressure from the Humane Society of the United States and PETA.  They are afraid of bad publicity.  If they knew they had support from a large number of Americans, they'd be more likely to stand up to these groups.
West Hollywood Fur Ban
This one seems like kind of a joke.  Activists and officials in ultra-liberal West Hollywood want to make it the first city in the U.S. to completely ban the fur trade.  The ban probably wouldn't mean much – not many people sell or wear fur in the area.  If passed, it would only further solidify the city's distance from reality.  Some folks are already starting to question the constitutionality of such a law.
Petition to Ban Fur in the EU
The change.org petition to ban fur in the European Union certainly isn't the first one, and I can say with confidence that this will go nowhere.  While fur trapping isn't as high-profile in Europe as it is in North America, the area dominates the ranched fur industry with its many fur farms.
Targeted Celebrities that Wear Fur
Animal rights groups continue to bash celebrities in the U.S. who choose to wear fur.  Unfortunately for them, however, the popularity of fur seems to be really growing.  Supporters of fur can thank bold celebrities that aren't afraid to wear fur.  These include Jennifer Lopez, Catherine Zeta-Jones, Aretha Franklin, Jessica Simpson, Goldie Hawn and daughter Kate Hudson, and yes, many in the not my favorite hip/hop-rap industry like Kanye West.
So there's a recap on what's been going on lately in the anti fur industry.  As trappers, we should keep an eye on current events that may have an impact on our trade, no matter how indirect they may be.  If you get the chance, take a minute to show your support for the fur industry that makes our way of living possible, and helps support regulated wildlife management throughout the developed world.
Maine Lynx Lawsuit Resolved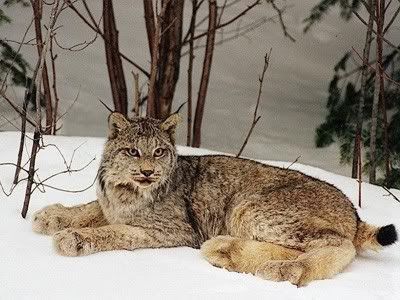 Here at TrappingToday, we've been following the Maine lynx lawsuit for quite some time.  You can find background on the issue by visiting the lynx issues category page here.
It finally appears that we have some closure to the issue and trappers, while having given up a lot in the process, have exited the process victorious over the animal rights activists.
Here's an update from Skip Trask of the Maine Trappers Association:
Good afternoon – I just received word that the U.S. Court of Appeals for the First Circuit has affirmed in all respects Judge Woodcock's favorable judgment in the lynx lawsuit.  The First Circuit's opinion is a published opinion and, as a result, is binding law in New England and persuasive precedent in the rest of the country.   The opinion makes it clear that plaintiffs seeking an injunction under the federal Endangered Species Act (ESA) must prove irreparable harm to the species and that courts are not required to issue injunctions to end ESA violations (even where plaintiffs prove that a violation has taken place) if plaintiffs fail to show irreparable harm.  This is a huge victory for Maine trappers.  This bogus lawsuit is no longer hanging over our heads as we start the 2010 trapping season.  This decision will make it much harder in the future for the animal fanatics to use the federal ESA to attack trapping, hunting or any other activity that could result in a threatened or endangered species being taken incidentally.  I'll provide more details in the next MTA/MPGA newsletters.  Skip
Skip summed it up great.  It's a huge victory and sets some very important precedent for similar lawsuits in the future.
Trapping Supplies Review, Black Bear Blog, and Trapper & Predator Caller blog have also reported on the story.
New Mexico Governor Bans Trapping in Wolf Recovery Area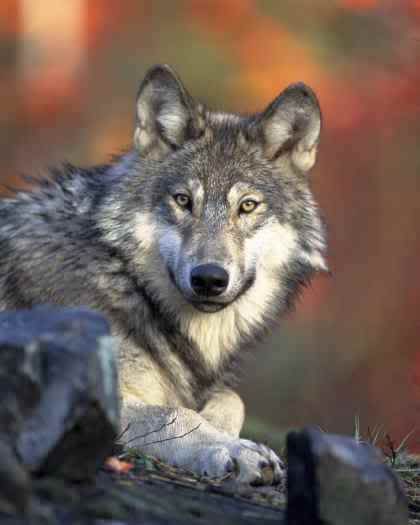 Amidst a slew of propaganda from animal rights activists and members of the media, New Mexico governor Bill Richardson ordered the New Mexico Game and Fish Department to impose a six month ban on trapping in the area along the New Mexico-Arizona border where gray wolves were introduced beginning in 1998.
The ban halts trapping in the area until a study can be completed to evaluate the impacts of traps on wolves.  It's assumed that after the study, the Game and Fish Department will impose new restrictions on trapping to minimize potential impacts on the wolves, if trapping is allowed to resume at all.  Just how they are going to carry out this study without actually 'hurting' more wolves is beyond me.
The New Mexico trapping ban is just the latest in a long line of recent trapping bans and restrictions all across the country, aiming to 'reduce impacts' on 'endangered species', many of which have been introduced by the government that's restricting trapping to protect them.
Another interesting observation is the fact that trapping of all types is being banned in the area, not just trapping activities that could impact wolves.  For instance, under the executive order it will be illegal to trap with underwater sets for muskrats, or to use live cage traps for bobcat.
It should be interesting to see how the New Mexico trapping ban plays out, especially since the state will have a new governor after the upcoming elections.  We'll be sure to keep you posted on any new developments.
Click here to read Richardson's executive order
Here are a couple of related news stories:
Richardson orders temporary wolf-trapping ban
NM governor suspends trapping in wolf area
Here's a map of the recovery area where the trapping ban will be enacted:
Montana Trap Ban Will Not Make Ballot
The initiative that could have ended trapping as we know it in the state of Montana will not be on the ballot this November.  With the deadline past for supporters of I-160, the effort to ban trapping on public lands in Montana, to gather enough signatures to put the question to the voters in November, signature numbers have fallen short.
Although the animal rights groups came very close to gathering the number of signatures needed to qualify the question for the ballot (20,318 of a needed 24,337), the shortfall signifies that there isn't enough support (yet) for a ban on traditional trapping practices in the state.
Trappers dodged a bullet this time around, with Montanans for Effective Wildlife Management leading the charge to educate the public on why the trap ban would be a terrible idea.  Coming this close to getting the needed signatures, however, means that these groups will most certainly be back, and hopefully Montanans will be ready to fight them off again.
Trapping in Montana is a time honored tradition and a well-regulated wildlife management tool in the state even today.  The trap ban would have hindered the ability of Montanans to manage wildlife populations, control predator numbers and prevent animal damage.
Animal Rights Wackos Threaten Trapper's Life
Trappers are persecuted every day by folks who care more about animal rights than public safety, wise resource use and traditional values.  In just another on a long list of such incidents, Chicago-area animal damage control trapper Rob Erickson received death threats and other harassing messages from the crazies after trapping several coyotes that were threatening public safety.
A Message from MEWM on the Montana Trap Ban Effort
Here's an update from Montanans for Effective Wildlife Management, the group formed to fight the proposed ballot initiative (I-160) that would ban trapping on all public land in Montana.  The initiative supporters still need to collect a large number of signatures for the question to show up on the ballot, but MEWM is being proactive in an effort to get the early word out on I-160 and the impacts it would have on Montanans and others.
MEWM Needs Your Help

As you may have heard, trapping on public land is under attack by animal rights activists.

Montanans for Effective Wildlife Management would like your help in defeating Initiative 160.

We would like to invite you, as a Montana Trappers Association member, to join us in our efforts.  We are eager to get the word out to all Montanans.

Initiative 160 will impact the ability to control pests and wildlife on all publicly owned land and facilities in Montana. It is an overly broad initiative with far reaching consequences; it will impact livestock ranchers, farmers, timber growers, home owners, pest control professionals and all those who depend on smart wildlife management methods.

MEWM hopes you will join us in our efforts to defeat I-160. Also, please spread the word by forwarding this email to family, friends, co-workers and others who might be interested in joining our efforts to defeat this overbearing initiative.  Our goal is to build a broad base of Montanans who oppose such a heavy-handed, intrusive, initiative. For additional information regarding I-160 you can go to our web site, www.NoOn160.com. Keep an eye out for future newsletters full of useful information and events taking place in a town near you.
Why I-160 is a bad idea…

This initiative will hurt Montana's agriculture, ranching and forestry industries by significantly adding to the cost of doing business in Montana.
I-160 removes an important wildlife management tool from home owners, ranchers, farmers and pest control professionals.
This initiative will require public employees to conduct all pest control on public land, forcing the state to spend thousands of taxpayer dollars to conduct basic pest control.
The initiative is so broadly worded, that it would ban the trapping of common pests, like moles and gophers.

Remember…
Initiative 160 would harm Montana's environment and economy.

Trapping is an effective and
trusted wildlife management tool.

I-160 does more harm than good to Montanans.

Initiative 160 will waste taxpayer dollars.

What you can do…

Do not sign a petition on this  initiative; it is bad for the economy and bad for Montanans.

Talk with family, friends and neighbors and ask them to oppose I-160.

Write a letter to the editor of your local paper.

Visit www.NoOn160.com for additional information.
Conflict Over Bear Snaring in Nova Scotia?
According to a recent news article, a Nova Scotia man is pushing to outlaw bear snaring in the province, citing it as 'barbaric'.
What the retired school teacher and bird hunter has failed to recognize, however, is that this snaring is the same exact method used by biologists across Canada and the U.S. to capture bears for research purposes.
Here's what the local Trappers Association had to say:
Ross White, vice-president of the Trappers' Association of Nova Scotia, says bear snaring is considered humane and effective.

Snares are comprised of a steel cable that loops around the leg holding the bear until the trapper returns. Only certified trappers can get a permit to snare a bear. They are required by law to check the traps every 24 hours, he said.

The trapper usually then uses a high-powered rifle to shoot the snared bear, said Mr. White, who lives in the Truro area. Bears most often get caught in the snares at night and the traps are checked first thing in the morning, he said.

"Most generally, they are not in distress very long. When you go to the snare, the bear is laying there. It is quite comfortable. It is quite relaxed," he said.
The Natural Resources Department was contacted about the issue:
In 2008, the Natural Resources Department issued 145 bear snaring permits. Sixty-two bears were snared, according to provincial statistics. During the same period, about 2,680 bear hunting licences were issued, with 532 bears hunted and killed.

Only one bear is allowed per hunter or trapper during the bear harvesting season, which runs from the middle of September to Dec. 1.

Tony Nette, manager of wildlife resources for the Natural Resources Department, said there is no move to ban bear snaring.

Mr. Kendall's complaint is the first he has heard in many years, he said Friday.
The local sportsmen's association weighed in as well:
Tony Rodgers, executive director of the Nova Scotia Federation of Anglers and Hunters, also said he has not heard any complaints about the practice.

"We see no problem with it," he said.
Not only is bear snaring a valuable tradition in eastern Canada and Maine, it plays an important role in helping manage bear populations.
Nova Scotia's black bear population has been increasing for the last 15 years, and snaring is an effective way for getting rid of nuisance bears, Mr. Nette said.

"They are hard to hunt. . . . There is a lot of conflict with agriculture," said Mr. Nette, who oversees management of bear, moose and deer in Nova Scotia.

Natural Resources Department field staff is run ragged in the summer with complaints of bears destroying bee hives and blueberry crops, said Mr. Nette, who works in Kentville.
Hopefully one man's problem with this bear snaring doesn't lead to a huge animal rights campaign to take away another one of the traditional practices of local trappers.  Let's try being reasonable.  Live and let live.
I-160: Initiative to Ban Trapping on Public Land in Montana

The anti-hunting, anti-trapping crowd is at it again.  This time it's in Montana – a once conservative, property rights oriented state that has seen drastic changes in demographics over the past few decades.  Fresh faces, liberal ideas, and city lifestyle have paved the way for animal rights initiatives in a state where such nonsense would once have been unthinkable.  But here we are.
I'm talking about I-160, a ballot initiative that will be in front of Montana voters next fall, and would ban trapping on all public lands in the state.  A relatively new animal rights group, Footloose Montana, has sponsored the initiative and has pushed full speed ahead, spreading lies and gathering signatures.  We're facing a huge battle to keep our trapping rights in Montana, and this new bill would impact almost every trapper in the state -  a very, very large portion of Montana is publicly owned.
Here's the language that will likely be on the ballot:
BALLOT LANGUAGE
INITIATIVE NO. 160
A LAW PROPOSED BY INITIATIVE PETITION
I-160 prohibits trapping of all wild mammals and birds by any means on public lands in Montana, subject to limited exceptions. It allows trapping for scientific purposes and for breeding of migratory game birds. It also allows trapping by public employees to protect public health and safety. However, it prohibits commercial use of wild mammals and birds trapped on public lands for any of the allowable purposes.
I-160 costs approximately $47,780 of state funds annually, resulting from a loss of
trapping license revenue.
[ ] FOR prohibiting trapping of all wild mammals and birds on public lands in Montana, subject to limited exceptions.
[ ] AGAINST prohibiting trapping of all wild mammals and birds on public lands in Montana, subject to limited exceptions.
Yes, you read it right.  This would ban all trapping on public lands in Montana.  The initiative is absolutely insane, and it seems as though it should be voted down easily.  But then again, such initiatives have passed in a number of other states.  Trappers should be very concerned about this.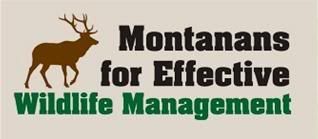 Montana trappers are responding.  The Montana Trappers Association and its board of directors have been working hard to form a coalition that will fight this initiative.  All individuals and organizations are encouraged to join Montanans for Effective Wildlife Management at www.noon160.com.
I'll have more on I-160 later.  We'll talk about the many lies the animal rights people are spreading to promote the trapping ban, and also post information on the response from trappers and members of MEWM.  Until then, please sign up as a supporter of MEWM at www.noon160.com and show your support for trapping!
Judge Rules in Favor of Trappers in Maine Lynx Lawsuit
The Maine lynx lawsuit has finally reached a conclusion.  After over a year of litigation and a six-day trial this past spring and summer, federal judge John Woodcock issued a 30 page ruling yesterday, which put an end to the current efforts of animal rights activists to ban many forms of trapping in northern Maine.  Here's what you need to know:
"The Court denies the Plaintiffs' request for permanent injunction against the state of Maine's current trapping regulations because it finds that the Plaintiffs have failed to prove the Canada lynx as a species will suffer irreparable harm if the injunction is not granted."
The case has a long, drawn out history (you can find more background here), and has resulted in lots of changes in the way trapping is carried out in northern Maine.  New trapping regulations have restricted many of the traditional practices Maine trappers have used successfully for years without harming lynx populations.  However, these changes may have been necessary to keep from losing the lawsuit.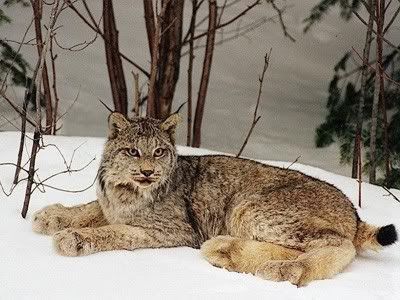 In the end, the Judge ruled in favor of the testimony of Dr. Ken Elowe, of the Maine Department of Inland Fisheries and Wildlife, rather than the opinions of the animal rights group's witnesses.  Solid scientific information gained through years of lynx research paid off for the Department and for trappers.
Here are a few more excerpts from Judge Woodcock's ruling:
"Each trapping season, the current state of regulation in Maine has the effect of tolerating the incidental takes of a certain number of lynx, an intolerable state of affairs to animal rights advocates.  Twice in the last three years, they have come to federal court seeking declaratory relief and injunctions against Maine laws and regulations."

"To prevent further incidental takes of Canada lynx, AWI sought the issuance of a permanent injunction against the state of Maine, and in mid-April and late June, 2009, the Court held six days of hearing in which the parties presented exhaustive testimonial and documentary evidence.  Following the hearing, AWI expressly asked for injunctive relief that would "(1) prohibit the use of leghold traps on land in the identified lynx WMDs as well as in WMD 7 where . . . lynx have been identified as present and have been trapped; and (2) prohibit the use of killer-type traps with an opening of more than four inches in both ground and elevated sets."

" To the extent the case has been a battle of the experts, the Court has relied on Dr. Elowe's testimony over the testimony of both Dr. Paquet and Ms. Fox."

"The Court finds AWI's generic evidence and speculative inferences much less convincing than IF&W's specific records and finds Dr. Elowe's testimony more convincing than the opinions of either Dr. Paquet or Ms. Fox."
Maine trappers can finally relax a bit and start trapping without worry that their season could be shut down……at least for the forseeable future.  All trappers and outdoorspeople owe a huge debt of gratitude to all of those who worked so hard to fight this lawsuit.  As a trapper who started out in northern Maine, I thank you all for your hard work and dedication to the end.