NAFA February 2013 Fur Auction Results
Here's NAFA's report on their February fur auction.
Record Attendance Creates Record Prices

100% CLEARANCES WITH NEW HIGHS

February 22, 2013

NAFA, nor any other auction house in North America, has ever seen a buyer attendance for a fur sale such as we saw here in Toronto this week.  Registration for NAFA's 2013 winter sale was over 700 buyers, with 470 from Hong Kong/China, more than 100 from Russia and Greece and 50 Koreans.   This, combined with buyers attending the sale from Turkey, Eastern Europe, North America and other European countries, meant our auction room was full to bursting each selling day.

Throughout the wild fur sale, Hong Kong/China was exceptionally active, but in many articles, we also enjoyed strong support from Russia and Greece.  In the exclusive fashion category, we still saw excellent buying from the top fashion houses in Europe and North America.

NAFA's wild fur promotion has been an important factor in increasing China's buying of wild fur.  It was only a few years ago that China showed very limited interest in wild fur.  Today, with the huge amount that NAFA has now cumulatively invested in wild fur promotion, this has all completely changed.  We have to recognize that fur is in fashion in China, where up until now, ranch raised mink was their number one article.  Without NAFA's wild fur promotional programs, it would not have been possible to sell articles like Fisher, Sable and most of the Raccoon into this important market at these levels.  Coupled with the coldest winter in 28 years in China, this has created an unbelievably strong fur market.

In all of the long haired articles throughout our wild fur sale, the trimming trade was very active.  This reflects the popularity of fur trim on all types of outerwear.

New highs were achieved for Fisher, which saw the traditional buyers having to compete with Chinese retail manufacturers for the first time.  Prices increased 50% to 70% over February 2012 levels.  The average price was $156.67 with the Top Lot sold for $350.00

Close to 100,000 Can/Am Sables also saw an incredible price increase over last February of 55% to 60%.  Again, the traditional buying markets of Russia and Greece had to compete with Hong Kong/China, which dominated this sale.  However, Russia and Greece still took their fair share of all of the goods offered.  The average price was $144.29 with the Top Lot sold for $650.00.

Over 400,000 Raccoon sold 100% at an overall average of $31.20, compared to $16.90 last year, an increase of over 80%.  However, the heavier, better sections quite often saw price increases of 100%.  The influence from the trimming trade was felt throughout the Raccoon sale as they took the lion's share of the goods.  Here again, China dominated, with good support from Russia and Greece. This was not only a truly unbelievable accomplishment, but long overdue for this important article.  The Top Lot was sold for $240.00.

Muskrats advanced 10% over our very strong sale last February, with an average of $11.51.  Again, China dominated in this important article.  The Top Lot was sold for $54.00.

160,000 Beavers sold 100% at an Eastern average of $37.73 and a Western Average of $31.03.  Price averages declined 18% overall from last year's February very high Beaver sale.  This result is somewhat better than expected and reflects the ongoing dressing problems for this article.  Again, China dominated.  The Top Lot was sold for $400.00.

Otters had a very strong sale, advancing over last year's already high levels.  Again, China dominated, with good support from Greece and Russia.  Better quality Otters are now being sheared and used for men's coats.  The average price was $112.58 with the Top Lot sold for $260.00.

Lynx sold under very strong competition with Russia, Greece and China all in the mix to buy. This resulted in a 40% increase over last February.  Nearly all of the Lynx will be used for trimming.  The average price was $194.44 with the Top Lot sold for $525.00.

Lynx Cats produced new highs, with all major markets competing for this beautiful article, which is mostly used in the big sizes for trimming and the smaller sizes for garments.  Greece and Russia dominated with good support from China.  The average price for Westerns was $589.08 with the Top Lot sold for $3,000.00.

Coyotes sold exceptionally well with Italy, Canada and China competing aggressively for all sections.  Premiums were paid throughout for heavier, better quality Westerns, which averaged $93.98 with the Top Lot sold for $1,400.00.

Red Foxes sold under strong competition with premiums paid for heavier goods, better colours.  Again, China dominated with good support from Europe and Russia.  The average price was $65.78  with the Top Lot sold for $340.00

The sale concluded today with Grey Foxes, which sold 100% under good competition at advancing prices, primarily to the trim trade.  Again, China dominated.  The average price was $45.91  with the Top Lot sold for $68.00.

The combination of the record attendance of buyers from all major markets, the fact that fur is fashion, especially in China and Russia, and the long cold winter in China, came together to generate the "perfect storm" for our producers.

The sale will conclude tomorrow with miscellaneous and taxidermy articles.
Wild Fur Reaches New Highs – NAFA February 2013 Fur Market Update
"I should have trapped more last fall". That's a phrase that's likely to be heard more and more over the next couple of months if wild fur prices continue their run upward.
North American Fur Auctions held there first big fur sale of the year last week, and the results were excellent.
Here's their initial reaction:
Wild Fur Reaches New Highs!

New Highs reached for Fisher, Can-Am Sable & Raccoons

NAFA's 2013 winter Wild Fur auction opened with a record number of buyers in the auction room actively bidding for one of the largest and best collections of wild fur in recent memory.

The sale began with a terrific offering of North American Wild Mink which sold under strong competition at as much as 25% over expectations to new high levels.

Musquash sold at very high prices, totally dominated by China, advancing 10 % over last year's already high February levels.

Fisher was one of the highlights of the previous day's sale as it sold at prices that haven't been seen in recent times, advancing more than 40% over expected levels. Chinese manufacturers and retailers played a major role in establishing these new prices.

Can-Am Sables were also a highly sought after article by Chinese buyers who aggressively competed with the established markets for this item and pushed it to record price levels.

Day One of the Wild Fur sale concluded with an offering of nearly 440,000 raccoons which sold under strong competition from China at prices, once again, not seen in recent memory.

Ranched Silver Fox sold well at advancing price levels, with some resistance for the best quality and biggest sizes.
These NAFA results come at the heels of the successful Fur Harvesters auction in January.  We'll keep you posted on forthcoming auction results, but for now, things are looking up for fur!
NAFA June 2012 Wild Fur Sale Results

Below are some highlights from North American Fur Auctions' June 2012 Wild Fur Sale.
Saturday June 2nd marked NAFA's first day of its June Wild Fur Sale.  According to NAFA, they have put together "one of the largest and best offerings of wild fur in recent memory".  No doubt this large offering is in response to upward trending wild fur prices over the past year.
The offering for Saturday included bobcat, lynx, marten, red fox, grey fox and fisher.  Here are some results:
Bobcat pelts sold 100% at averages of $68 – $380, with the top fur bringing $1,275.

Lynx sold 100% with an average price of $123 and a top of $340.

Marten sold 100%, averaging $46 – $128.

Red Fox sold near 100%, averaging $39.

Grey Fox sold 100%, averaging $26.

A smaller percentage of fisher pelts sold, but the ones that did sell averaged $68 – 80.
On day 2 of the Wild Fur Sale, NAFA offered the high volume fur pelts that are the bread and butter for most of the trapping community.  Here are some results from day 2:
Coyotes sold at decent levels (74-87%) with an average of $21 – $51.

Raccoon pelts sold at varying levels with prices from $3 – $19.

Mink sold 100% with a $21 average

Otter sold at 50%, averaging $70.  Some were held back due to price resistance.

Beaver cleared at lower levels and averaged $9 – $32.

Muskrat sold at 80% and averaged $8.10.
The rest of the wild fur sold on day 3.  Weasels averaged $2.75, Badger $41, and Skunk at $3.69.
Overall, the red hot fur market we saw in February seems to have cooled down quite a bit, but fur prices for many items are still better than they've been in a few years.  Will prices bounce back or start in a downward trend?  NAFA seems fairly optimistic.  We'll just have to wait and see what happens when the next fur auction season comes around again!
Click on the following links for detailed fur auction results:
NAFA February 2012 Fur Auction Results

North American Fur Auctions has had an exciting week of fur sales.  The good news for trappers is that the fur market appears to be up significantly.  See the press releases below for more information.
NAFA February 16, 2012 Auction Results
NAFA February 17, 2012 Auction Results
NAFA February 18, 2012 Auction Results
NAFA February 19, 2012 Auction Results
NAFA February 20, 2012 Auction Results (wild fur)
NAFA February 21, 2012 Auction Results (wild fur)
Fox Fur Prices May Encourage NWT Trappers
Recent record-high prices for fox pelts may cause more trappers in Northwest Territories (Canada) and beyond to target fox in their operations.  Here's an excerpt from a CTV News article that reports on the high prices:
The Northwest Territories government is hoping record prices for fox fur pelts will encourage northern trappers to target the critters and keep a check on the burgeoning population.The price doubled at a recent auction in North Bay, Ont., with cross fox pelts going for $100, more than triple the average price. White fox pelts went for $200 — up from $40 in previous years.

Francois Rossouw, with the territory's Industry Department, said that kind of price for fox is unheard of.

"We really hope the prices will get people targeting foxes," Rossouw said. "Every community in the North has their own resident fox it seems. Instead of having problem wildlife, we would prefer to have them harvest the foxes humanely and pelt them up properly and put them into the market."

Fur has garnered above-average prices this year compared to years past, Rossouw said. Wild fox is particularly in demand from Chinese buyers.
You can click here to read the full article.
Early 2012 Fur Market Report

Two recent fur sales gave us a great indicator of what to expect for fur prices in 2012.  On January 7th, Fur Harvesters Auction Inc. held its first fur sale of the year.  The sale went extremely well, with high averages for most species. Click here to read the FHA auction report.
Here's a recap of the prices:
Fur Harvesters Auction, Inc.  January 7, 2012 fur sale averages:

Beaver – $7.03-33.85 (most $18.42-33.85)

Mink – $20.87

Otter – $82.15

Muskrat – $8.72

Fisher – $38.00-$57.47

Raccoon – $13.31-$18.89

Red Fox – $26.64-53.43

Grey Fox – $24.32

Skunk – $2.51

Coyote – $63.30-$68.77

Wolverine – $222.35

Wolf – $125.31-$403.94

Weasel – $3.56
Additionally, North American Fur Auctions held a private treaty fur sale on January 10, 2012 that reaffirmed the elevated fur prices.
Click here for the NAFA Report.
Here's an overview of those results:
January 2012 Private Treaty Sale

Sale of Muskrat Exceeds Expectation
January 10, 2012

NAFA held a Private Treaty Sale over this past weekend which included nearly 100,000 fresh Muskrats as well as a selected offering of Coyotes, Beaver and Raccoon.

Muskrats sold 100% at very high prices with Section I averaging $9.03. The better qualities were sold in line with our record-breaking May 2011 sale.

Coyotes sold 100% at increased prices with a limited collection trimming coyote averaging $70.47, reflecting very strong demand from the North American trim trade.

Beavers sold 100% at sharply increased prices, reflecting a better understanding of this article from China, which now recognizes it is priced very attractively in either square centimeters or square inches. Overall Eastern larger sizes averaged $41.17 with Westerns at $37.03.

The limited offering of Raccoon was not large enough to attract sufficient buying power and was mostly withdrawn. To achieve success, this article needs a larger attendance and more participation from major overseas markets, which will be well represented in our February auction.

NAFA's senior management is currently travelling to the major international markets and we are expecting a very large attendance for our February sale.
The results of these auctions bode well for the fur market in the next several months.  Let's hope the trend continues!
Market for Muskrats Gains Attention
The Wall Street Journal just posted an interesting article on the recent rise in demand and prices for muskrat furs.  They took the time to interview several trappers and relay their thoughts on the muskrat market, as well as the fur market in general.
The North American muskrat market has been booming, thanks to soaring purchases by Chinese and other newly rich nations that need muskrat fur to line coats and footwear.

Specifically, they want muskrat bellies, the felt-like fur that is practically impermeable to moisture. At $10 per pelt—five times what muskrats fetched in the 1990s—pelts were trading at new highs when bidding for last season's furs ended in June.

But some in the belly trade are casting worried glances at Europe, where fur sales are expected to be soft this winter. That could drag prices down for trappers here, and the current muskrat mania could prove to be a belly flop.
Click here to read the full article.
2011 Western States Fur Auction Brings Positive Results
The Montana Trappers Association held the Western States Fur Auction in Columbus, Montana this past weekend with extremely positive results.  The quantity of fur brought in for sale this year was much greater than that of the past two years, and almost everything sold at or near 100%.  Rumor has it that availability of fur in the country is down, leading to high demand.  Obviously, more folks elected to bring their furs to the WSFA this year in anticipation of better fur prices.
All fur was brought in before the deadline of noontime Saturday, and over half a dozen fur buyers made their way along the crowded tables in the fairgrounds building, inspecting and evaluating the quality of the hundreds of lots of fur.  The sale was done via silent auction and buyers' bids were due by 5pm on Saturday.
After the bids were tabulated, sheets of paper with individual results were placed on several tables for trappers to examine the prices bid for their furs.  Like the others, I made my way through the small crowd to to see how my furs did.  All I can say is that I was VERY pleasantly surprised by the numbers.  Trappers were smiling all around.
Here's a quick recap:
Coyotes were a hot selling item.  621 coyotes were offered, and 578 sold, at an average of $44.83.  It appears that the early demand for coyotes seen at the NAFA auction has continued.
Bobcats sold at 100% of the 132 offered, at an average of $572.21.  Looks like cat prices are back to the high levels of a couple years ago.
Muskrat averaged $5.28, which isn't bad for western 'rats.  Only a couple hundred were offered, and some appeared to be freezer 'rats.  Mine were fresh and averaged over $6.25.
Raccoon (231 offered) averaged $18.92.
Marten averaged $35.85.  Some folks commented that this was a little lower than they'd received at NAFA.
Beaver averaged $14.41.  This item is still lagging.  Not many were offered, as I suspect people trapped very few beaver for fur this year.  I put a couple of large beaver in the sale that averaged $22.50.
Here are the rest of the averages:
Badger – $25.50
Red Fox – $31.22
Mink – $11.90
Otter – $46.63
Skunk – $7.80
Ermine – $2.31
Porcupine guard hair – $22.82
Beaver castor – $44.23
Winter 2011 Fur Market Report

The January fur sales at Fur Harvesters Auctions and North American Fur Auctions are completed and have provided valuable information going forward in this year's fur market.
FHA held the first major auction of the year on January 7.  Prices were encouraging for most items, but the majority did not sell at 100%.
The hottest items at the FHA sale appeared to be bobcat (lynx cat), which sold at only 42%, but on averages of over $500, and coyote, selling at 50-86% and prices of $31-39.
Raccoons averaged $13-17.  Mink were $12 and otter $42.  Red fox was highly variable ($13-28).
The major disappointments of this sale were beaver and muskrat.  Beaver sold at 49-77% and prices of $10-20 on average.  Many of these are northern beaver pelts that sold for more than double these prices several years ago.  Beaver prices have been lagging and don't look good going forward.
Muskrat prices were influenced by the lack of buyers from the Chinese market, which typically drives this item.  Muskrat sold at levels of 66-100% and averages of $5.90-7.49.  While these prices are much higher than just a couple of years ago, they represent a decline from the last auction, and indicate hesitant buyers.
Just two days after the FHA sale, North American Fur Auctions held its second annual internet auction.  This auction was started as an alternative to an on-site January sale that didn't receive lots of demand.
As a result of the lower muskrat prices at the FHA sale, offers for muskrats at NAFA were relatively weak.  Given this, NAFA decided to withdraw the entire offering of over 104,000 muskrats and try selling them at the February auction.  NAFA is confident that this strategy will pay off in higher muskrat prices in the coming weeks.
Beaver sold better at NAFA, averaging around $21-27.  Most sold.
Raccoon sold at $14-21, at about 75% clearance.
Coyote seemed to be the real winner at this auction, selling 100% at averages of $22-51.  The western/heavy coyote pelts were the biggest surprise, averaging $51.21.  Canadian demand is driving this market.
The first two auctions of the year may have raised more questions than answers.  Will muskrat prices continue on their recent highs?  Will the improved coyote market continue?  Will beaver prices ever make a comeback?
You can click on the links below for detailed price reports:
Stay tuned for the February auctions for more details on the 2011 fur market.
2010 Fur Market Forecast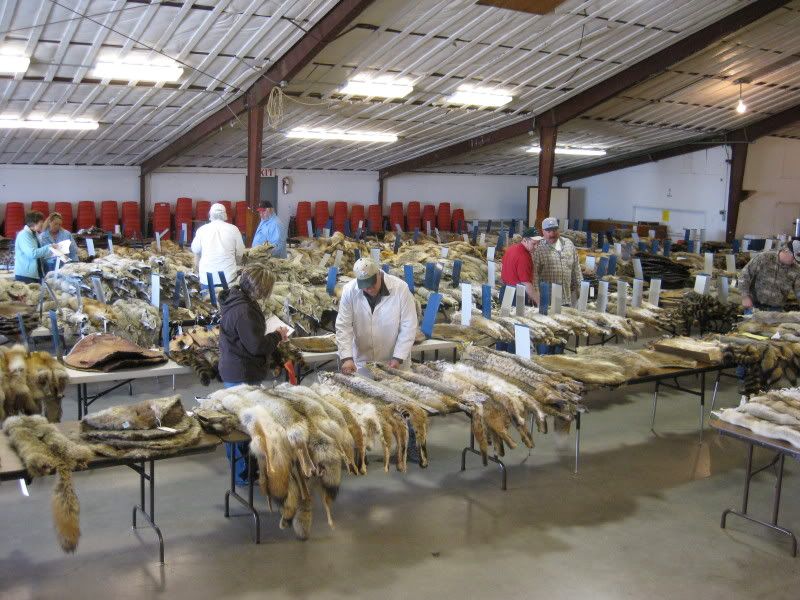 This fall, cautious optimism is the key phrase when talking about the fur market.  Discussion has surrounded the increase in demand and recovering Chinese and Russian markets, but there seem to be more questions than answers.  After looking over fur market reports from the major players, I've put together a quick summary of what we might expect to see for fur prices this year.  I've also provided links to the different fur market reports so that you can read them for yourself.
Overall feelings about the fur market tend to be a mixture of uncertainty and positive expectations.  No one is really negative about the market, which is surprising considering how poorly things finished up last season.  Among the uncertainty is a glimmer of hope that increasing demand will drive higher prices.  So we're probably looking at two possibilities: 1) the fur market stays the same as last year and prices continue to stay low, or 2) the recovering world economy drives more demand and prices climb.  While uncertainty abounds, nobody is expecting the market to drop substantially.
Here are some predictions for several species:
Muskrat – Expect excellent demand for muskrat early in the season.  This item sold out last year and should sell at good prices early.  Prices of $5-8 could be expected.  Demand could soften later in the year so folks are advising that you sell your muskrats early.  This could be one of the few real bright spots in this year's fur market.
Mink – Ranch mink has been selling really well lately, with high demand and solid prices.  This is expected to help the wild mink market and good prices are expected.  Prices should be on par with last year, maybe higher.
Beaver – This item sold pretty poorly last year, and unfortunately, expectations for this year aren't any better.  There are lots of holdover beaver pelts that went unsold, and demand is not expected to increase.  It may be smart to spend less time trapping beaver this year, or hold on to your furs until demand comes back.
Raccoon – Prices for the larger and heavy raccoon skins should be okay, and $8-10, perhaps upwards of $20, can be expected for these.  However, the smaller and flatter coon skins will be almost worthless.  The raccoon market has fluctuated substantially over the years, and a cold winter combined with increased Russian buying power could help things.  Demand is expected to pick up later in the season if the remaining unsold goods are cleared.
Otter – The slow recovery of the otter market after the crash several years ago is expected to continue, but it will be slow.  Expect some advances, with prices of $25-45, and prices greater than $50 for some skins.
Coyote – Not all of last year's coyotes at the auction houses sold.  Unfortunately, the unsold goods were the semi-heavies and lower grades.  These goods will not sell well this year.  The big, heavy prairie coyotes sold out last year and should do well, with prices upwards of $30 or better.
Red Fox – Prices of ranch fox have been advancing, and wild red fox is expected to sell well.  $15-30 may be expected for better goods.
Bobcat/Lynx – Increased demand for bobcats is expected this year, which should result in higher prices.  Similar to last year, well spotted western bobcats could average over $300 in some situations.
Marten – While many of the larger Canadian and Alaskan marten did not sell last year, increased demand is expected and prices should be okay.
Fisher – Increased demand should drive higher prices for this item.
Grey Fox – This item continues to struggle.  None of the experts see a recovery in grey fox prices anytime soon.
As you can see, this year's fur market forecast includes a huge variation in prices among different species, and lots of uncertainty.  As usual, time will tell.  The North American Fur Auctions and Fur Harvesters Auction February auctions should give us a much better idea of where the market stands.  You can learn more by reading the full reports from these organizations below:
FHA 2010/2011 Wild Fur Forecast
You can also read market reports from Trapper and Predator Caller magazine and Fur-Fish-Game.