Trappers Misunderstood
James Foster of New Brunswick, Canada's Times & Transcript newspaper wrote an excellent article on trapping after taking the Province's sponsored trapping course for the first time himself.  Like James said, taking a trapping course can be a real eye opener to folks who otherwise aren't familiar with the sport.
The course was more than informative – it was downright fascinating, offering keen insight into this age-old tradition that nowadays is carried on almost solely for the love of their craft. For sure, nobody's trapping for the money or because it's easy.
And by taking the time to learn about trapping, Foster came away with an enlightenment that I wish more people had.
Fur trapping has got to be the most misunderstood of all outdoor pursuits. Trapping is about as sustainable and renewable as it gets. Nothing is wasted in the taking of furbearing animals, and furbearers provide us with more than just clothing. The finest artists' brushes come from furbearers. The best fishing flies, too. The cosmetics industry relies a lot on the fur industry, as do crafts people. The list goes on and on.
If I took away nothing else from the course, it's that trapping requires a whole lot of knowledge, a ton of common sense and a sense of duty to our furbearing wildlife that goes far beyond that of the ordinary everyday citizen.
Foster provided a lot more great information on trapping and trappers in his column, which you can read by clicking here.
If more non-trappers would approach trapping with an open mind, they would come away with a much greater understanding of what it really means to trap.
The Kansas Skunk Man
While others cringe at the thought of handling the strong-smelling, striped critter that haunts most traplines, Kansan Mick Meyer welcomes the chore.
Mick is an recently retired, avid trapper who has already handled about 175 skunks this season!
Yup, Southerners Sure Do Eat Raccoons!
A recent AP article, "What's For Dinner? How About Raccoon?", highlights the fact that eating raccoons is a large part of the culture and tradition of many people in the southern U.S.  And it isn't just about habit, apparently.  Those who eat it regularly say that 'coon meat is 'just plain good'!
There are a number of benefits to a culture that embraces eating natural, wild animals as a major part of its diet.
"Raccoon meat is some of the healthiest meat you can eat," says Jeff Beringer, a furbearer resource biologist with the Missouri Department of Conservation.

"During grad school, my roommate and I ate 32 coons one winter. It was all free, and it was really good. If you think about being green and eating organically, raccoon meat is the ultimate organic food," with no steroids, no antibiotics, no growth hormones.
In addition, the raccoon meat market helps trappers obtain an added value for the coons that they trap for fur, and raccoon populations remain healthy and relatively disease-free when kept in balance with their habitat via sustained harvest.
In the wild, raccoons typically live five or six years. Populations that grow too dense can be decimated by disease, especially when temperatures drop, Beringer says.

"The animals huddle together, passing on the infections. In the winter, we sometimes have massive die-offs. If we can control the fluctuations in the populations by hunting and trapping, we can have healthier animals."
The demand for raccoon meat continues to be high in Missouri, and eating varmint meat is apparently on the rise across the pond in Britian as well.  Perhaps a meat market for 'coons can be developed in other parts of the country?  I'd be willing to try it.
Trapping Fever and Preseason Preparation
Well, it's getting to be about that time. We got our first cold snap of the year the other night, and you can feel the days starting to get shorter and shorter all the time. That only means one thing: trapping season's just around the corner!
Truth be told, I've had the trapping fever since sometime in May. I recently moved to Montana, and have been excited about the new trapping opportunities since the time I applied for the job that brought me here. In fact, I talk about it so much, I think I'm starting to convince co-workers and new friends that I'm a little crazy! A friend of mine has been mailing boxes of my traps out from back home, and each arrival feels kind of like Christmas morning.
With most of the traps in, now comes the preparation for the season. This means adjusting and modifying the traps to make them suitable for the type of trapping I plan to do. Then I'll boil and wax the traps to get rid of foreign odors and prevent rust.
I'll make orders from the trapping supply catalogs I've been poring over for months. But I'll need to save some of my money for the big state trappers rendezvous coming up, where the list of supplies will be rounded out, along with many others that I may or may not need.
Final plans on trapping territory have to be made, including making landowner contacts, studying maps, and scouting areas. After securing territory, additional scouting must be done to locate critters. This will probably be the most important component to my success this year, since all the territory here is new to me.
Bait has to be prepared, packaged and stored. Tools have to be in place, and a plan of operations must be made. This includes thinking about when to trap where, which species to target, and how many traps to set in a particular location.
Planning and preparation. It's one of the most time consuming, but also one of the most enjoyable aspects of trapping.
Like most other trappers out there, I can't wait for the start of the season. Bring on the cold weather, and bring on the fur!
Marten Page Added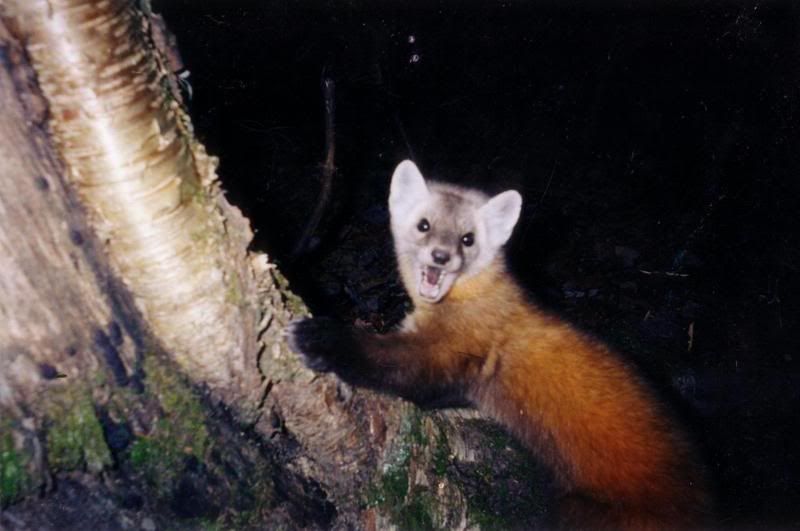 Check out the new marten page recently added to Trapping Today. The page gives a brief overview of marten biology and habits, and gives some tips and tricks that may be useful to marten trappers. You can navigate to the page by clicking on the 'Furbearers' tab above, then clicking on the marten picture located on the Furbearers page.
Trapper Catches Heat for Selling Meat
A New Jersey trapper was recently contacted by his County Health Department and forced to remove a sign advertising the sale of muskrat meat from animals he legally captured.  The call from the Health Department came after an earlier news article about he and another local trapper, which mentioned the popularity of muskrat as a food item.
While there is a growing demand for an affordable and healthy alternative to store-bought sources of meat, New Jersey law does not allow retail sale of meat unless it comes from a state-approved facility.  Many outdoorsmen believe that restrictive laws like this are unreasonable, while the state argues for the importance of protecting the public from the consumption of potentially unsafe food. 
Fur is Eco-Friendly
The thought of wearing fur incites a negative reaction from a portion of the public, but is such a reaction really justified?  After all, fur is a renewable natural resource.  When managed wisely, furbearers can provide recreational and economic benefits to trappers, and play an important part in the global fashion market without harming the environment.  In fact, regulating furbearer populations via responsible trapping can actually provide a healthier environment for many animals.
In the blog she writes for the Missouri Department of Conservation, Outreach and Education Division Chief Lorna Domke recently provided some insight on the concept of eco-friendly fur.     
"….wild furs, unlike much other clothing, do not require use of lots of other natural resources to produce them. When they're taken in a carefully regulated way (which is the only legal trapping allowed), we can have furs, yet maintain a healthy natural world. Furs can be eco-friendly."
Beaver and Raccoon Can Make Great Table Fare
They might not sound like the tastiest of treats, but a small number of people do eat the meat of certain furbearers, which can taste really great if prepared correctly.  This might not be surprising, considering that beaver and muskrat are herbivores, and raccoons consume a wide variety of food items.  Most other furbearers are predominantly carnivorous (they mostly eat meat), and with the exception of the bobcat, these are not considered suitable for human consumption.  
Beavers have perhaps the longest history of being an important food item, providing a crucial food source for the early mountain men who pursued them for their fur.  In fact, the reason the fur market accepts beaver pelts skinned open (most furs are skinned cased) was because trappers would gut out beavers for food preparation before they were skinned.  In addition to the meat, trappers particularly enjoyed the fatty taste of beaver tail, and often made beaver tail stew.
Despite their popularity as an early food source, very few people eat furbearer meat.  Vicki Mather is one of those few.  She included a recipe for beaver chili in a column written for Canada's Northern Life a few years back.  You can access Vicki's column here.  And if you ever get the opportunity to try beaver meat, be sure that you do.  It really is great!  
Jewish Trapper
I just read a really cool article about a Jewish girl from central Massachusets who dropped out of the rat race to become a trapper in the wilds of British Columbia.