Heimo's Arctic Refuge
I watched this video on Heimo Korth the other day.  After seeing an old National Geographic video featuring Korth and his family filmed over a decade ago, and reading his book, The Final Frontiersman, I was excited to see a new documentary on Heimo and his wife.  This family lives the ultimate wilderness lifestyle in the middle of Alaska's Arctic National Wildlife Refuge with no neighbors or help within hundreds of miles.  They hunt, fish and trap to survive.  Heimo's lifestyle is one that I and other trappers have dreamed about living but the realities of life kept us from making it happen.  You'll want to watch this video.  It's incredible.
F&T's North American Trapper
I caught an episode of F&T's North American Trapper for the first time this afternoon.  The new show is the first of its kind to feature all trapping all the time.
Today's episode featured Johnny Thorpe on his fisher trapline in the Adirondacks of New York.  Johnny demonstrated how to make a few different sets, trap modifications, and other tips and tricks relating to fisher trapping.  Thorpe is truly a professional and did a great job explaining his fisher methods.
Between segments of Thorpe's trapping footage, host Alan Probst talked about animal disease during the short "Conservation Minute" segment and gave a short plug for the National Trappers Association.  During the commercials, it was interesting to see advertisements from familiar trapping names like Duke, F&T Fur Harvesters Post, USA Foxx, Trapper and Predator Caller, and others.
Overall, the show was interesting and informative, but it wasn't spectacular.  The video and audio quality weren't the best, and it looked like they just pulled segments straight from Thorpe's fisher video rather than actually visiting him on the line and doing something specifically for the show.
Still, trappers can't be too picky, as this is the only trapping show available on television and it's still a lot of fun to watch.  While it could have been better, I enjoyed my first episode of North American Trapper and will continue to watch it throughout the season.  The show should do a great job educating a wider audience about the science and techniques behind the modern sport of trapping.
Look for a website in the near future at natrapper.com and catch the episodes on Wednesdays at 6pm and Thursdays at 11pm EST on DirecTV channel 344 and Dish Network channel 230.
First Ever Trapping Show Comes to Satellite TV
It's official.  Beginning this summer, a new show dedicated entirely to trapping will be airing on satellite televisions around the world.  F&T's North American Trapper, something that most of us could only dream about in the past, will be hosted by popular outdoor television host Alan Probst and broadcast over 32 million households starting in July.  Here's what Probst had to say about the show:
Fellow Trappers,

I am writing this with much joy and also to inform you that for the first time ever….there will be a Nationally Broadcast TV show reaching over 32 million HH's starting in July of 2010 that will focus on nothing but trapping and the trapping industry. This is the first of its kind and all 00:28:30 of each show will be dedicated to the promotion of trapping, furbearers, the fur industry and the debunking of anti-myths on trapping abroad. I/We as a group could definitely use the support of everyone in the trapping community on this. Any and all ideas pertaining to the show will be received with open arms.

The show will be broadcast on In_Country_Television (ICTV) which can be found on basic subscription packages on DirecTV channel 344 and Dish Network channel 230 which as stated earlier reaches over 32 million HH's. This is a big day in trapping history and the approach of the show is education and sportsman awareness to the benefits that trapping produces for not only trappers, hunters, but also sportsmen in general.

We will be airing F&T's North American Trapper starting in July of this year. The format is 13 Original episodes that will run through the end of September and those original 13 episodes will be rebroadcast until the end of December 2010.

The show will air twice a week with its Primetime slot on Sunday evening's at 11:00pm EST and another timeslot at 6:30am EST on either Thurs, Fri, Sat or Sun. (TBD)

This show would not be possible without our title sponsor who is F&T's Fur Harvester's Trading Post and they should be commended for their support of such a venture. Duke Traps is also on board for the duration of this show at this time and should be commended as well.
Click here to read the Trap Line blog post.
I'm just one of a huge group of trappers who can't wait until July!
Kirk DeKalb's Trappin' Tales Video: A Review
The trapping world is full of videos.  Videos on how to catch bobcats, coyotes, beaver, you name it.  In a sport and lifestyle where many young enthusiasts are thirsting for specific "how-to" information, trapping instructional videos abound.  And I enjoy them.  It's nice to watch a meaningful video and pick up a few pointers here and there.  But for the longest time, I've been searching for trapping videos that really entertain.  I'm always looking for the trapping video that I can enjoy sitting down to when I'm not particularly interested in watching specific instructions.  Believe me, these videos are hard to find.  Mike Lapinski put together Wilderness Trapping, which really fit the bill, but the video is over a decade old!  In between watching old tapes from Lapinski and others I'm constantly looking for a fun trapping video with high entertainment value.  In Kirk DeKalb's "Trappin' Tales", I finally found just the trapping video I was looking for.
Kirk DeKalb is arguably the top beaver trapper in North America.  Working in Georgia, DeKalb consistently traps around 1,000 beaver each year, along with a hefty pile of otters.  After eleven years of animal damage control work, DeKalb decided to begin sharing his knowledge and experiences with others through video, and brought in a professional videographer to spend a week on his trapline and record his experiences.
Trappin' Tales is the result of a week on the beaver and otter trapline with Kirk DeKalb, compressed down to just over two hours of footage.  The video follows Kirk to his individual sets and shows lots and lots of catches.  I mean lots.  The man pulls 89 beaver and 16 otter out of Georgia's wetlands in an average week.
Trappin' Tales starts out with Kirk in an interview setting, talking about the video and what he hopes to accomplish.  The main point he gets across here is that he wants to entertain.  Unlike most trapping videos, which are primarily instructional, this one is more of a show-and-tell.  You'll follow along on the trapline and experience a week in DeKalb's world.
Day One on the line starts off really quick.  Almost immediately, Kirk is slogging through the water and pulling beaver out of traps.  The main focuses here are set location and getting a high volume of sets out.  Many small details are not discussed, likely in the interest of keeping the video fast-paced and entertaining.  Even though he didn't spend a huge amount of time on the details, I did pick up a few valuable tips on set types and locations.  I was particularly interested in the way DeKalb stabilizes his traps and places them in areas that I might have overlooked.  I was also treated with an interesting story about a mean water moccasin on the trapline!   At the end of Day One, Kirk has pulled in 12 beavers and an otter.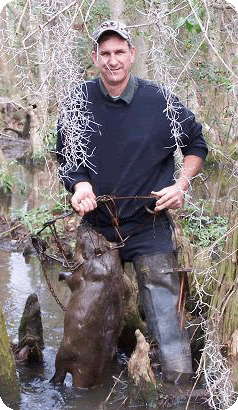 On Day Two, we get to see Kirk catch a beaver in a drowning rig that he showed how to set up the day before, and also hear a funny story about alligators.  I start noticing a pattern in the way Kirk sets most of his beaver traps and think about how I might incorporate this in my beaver trapping.  There isn't much time to daydream, though, because the next thing I know Kirk is pulling more beavers out of the water and talking about alligators.  There's also an interesting catch of white-bellied beavers, a true rarity!  A rain storm hits, which should make the beaver more active.  A short Day Two ends with 11 beavers and an otter in the back of the pickup truck.
On Day Three, Kirk talks about the impact of temperature on beaver activity and about beaver being stolen or partially eaten by bobcats.  We see lots more trapped beaver, and hear a story about how DeKalb broke his ribs and hand, and kept on trapping.  The day ends with 14 beaver in the truck.
By Day Four, I'm enjoying following Kirk back to the same locations and catching critters day after day.  This is especially interesting when they're caught in locations where he made new sets earlier in the week.  Kirk discusses in detail the destruction that beavers are causing to valuable cropland and infrastructure in the area he traps.  I certainly appreciate this view, but it may be a bit conflicting to those who view beavers as a valuable furbearer and not so much as a nuisance.  In Georgia, beaver pelts are worth very little.  The main motivation for trapping beaver in DeKalb's area is to prevent and eliminate the widespread damage they cause.  Kirk really enjoys his job and feels strongly about controlling beaver numbers so that beavers and humans can co-exist without too much conflict.  At the end of Day Four, the truck is loaded down with 15 beavers and 2 otters.
Trappin' Tales ends with DeKalb discussing his love for trapping and the different aspects of being on the trapline.  He truly does love what he's doing, as you can tell by watching him on the line.  Overall, the video turned out to be extremely entertaining, and I picked up a few pointers along the way.  All of my trapping experiences have come from the northern U.S., so it was interesting to see the way things are done down South.  It was also interesting hearing stories about water moccasins and alligators, dangers that I would never encounter on the trapline.  The white-bellied beavers were a bonus as well.
The video quality of Trappin' Tales was second to none.  Picture quality is the best I've seen in a trapping video thus far.  The soundtrack was also great.  It was a real catchy tune that went well with the overall theme.
The DVD also contains two special features.  One is an interview with DeKalb where he talks about what it takes to catch large numbers of beaver.  He talks about the various aspects of ensuring that your trapline produces a profit.  There are interesting tips here that can really help a motivated trapper.  The second feature is a video of Kirk's son, Taylor, skinning a beaver in less than two and a half minutes!  This is something you have to see to believe.  The kid is fast!  Taylor pays his way through college with the money he makes from trapping.  Kirk is obviously very proud of his son, and has passed on a great tradition and skill through him.
Overall, I feel that Trappin' Tales is well worth the purchase.  If you're tired of all the run-of-the-mill instructional videos out there and want a trapping video that will really entertain you, try this one.  You won't regret it.
You can watch a video preview of Trappin' Tales by clicking here, and can purchase the video at www.trappintales.com.
Foothold Traps are Humane, Columnist Demonstrates
The best way to combat animal rights arguments is with the facts.  Massachusetts outdoor columnist Marc Folco did just that when he demonstrated, on video, what it's like to get your hand caught in the average foothold animal trap.  Folco showed the public what most trappers already know: these traps are humane!
The same traps demonstrated in the video below were banned in Massachusetts years ago by uneducated voters in a statewide referendum.
Click here to read the full story.
Kirk DeKalb's Beaver Trapping Video
I just received a copy of Kirk DeKalb's TrappinTales video to review and watched the full 2+ hours.  In short, the video is great!  I'll post a review here within the next few weeks, but until then, you can check out a preview of the dvd below.  Be sure to check out www.trappintales.com to purchase a copy of the full length dvd.
TrappingVideos.com
Information-sharing and entertainment has come full circle in the trapping industry.  Think about it – ten years ago how many of us could imagine a whole series of websites and forums dedicated to trapping and trappers?  I sure didn't think I would be posting news and info that could be accessed by people all around the world.  The realization of the tech revolution in the trapping world is probably best demonstrated in a new website, TrappingVideos.com.
I stumbled across this site a couple of weeks ago.  It's kind of like a trapper's version of YouTube.  The site hosts a cross section of available video in the trapping world.  Just today, I counted over 345 videos available for viewing.  These range from low-quality recordings of trappers making routine sets, to trailers for professional trapping instructional videos that are available for sale.  There are lots of videos in which trap designers demonstrate their new trap models and ideas.  Others show how to use a specific trap, or to make a particular set.  Some videos are even professionally created by state wildlife agencies to promote trapping and furbearer conservation.
TrappingVideos.com is the first all-trapping video website I have ever run across and it's jam packed with days worth of viewing.  I know I'll be spending more time there, and you should check it out too!
Sharing the Trail: How Pet Owners and Trappers Can Avoid Conflicts in the Field
With trapping season underway in many states, it's important that trappers and pet owners both work hard to avoid having dogs caught in traps. Catching dogs is a hot button issue in many places, particularly on public land that supports multiple use. In most cases, dogs are safely and easily released from traps, but some situations can be fatal, and these need to be avoided.
The Juneau Empire, newspaper for Alaska's capitol city, published a recent article explaining ways pet owners can avoid problems with traps. The article highlights places to hike where trapping isn't allowed, but the reality is that dog walkers can also avoid problems on trails that are open to trapping simply by keeping their pets on leash. Trappers and pet owners, please do your best to avoid pet catches, as these situations attract lots of attention and can shed a bad light on trapping.
The Alaska Trappers Association has put out a video entitled "Sharing Alaska's Trails", which helps educate pet owners on what to look for and avoid when walking dogs in areas where trapping takes place.  You can purchase a copy of the video or view the entire video free here.
Destroying The Myth
Destroying the Myth is a 10-minute video filmed in 2004 and distributed by the National Trappers Association, which explains the use of the foothold trap used commonly by trappers.  The video describes the use of foothold traps to capture and relocate animals in wildlife restoration projects, as well as the use of these traps to harvest animals for their fur.  It shows tons of great footage of animals being captured and released unharmed by the traps.  Such information is often ignored by animal rights activists who paint the trap as inhumane.  Destroying the Myth is a must watch for all trappers.  I would encourage you to watch the video and share it with others who are less familiar with trapping.
You can find a link to the video here, or at the National Trappers Association website.  I have also provided a link to the video on the sidebar to the right of this page.
Great Trapping Video Clip
Check out this video from MyOutdoorTV.com.  The first segment follows a couple of trappers making and tending sets on the Little Miami River in Ohio.  The two trappers are well experienced and educated in wildlife management as well.  Their interview provides a great perspective on the sport of trapping for the newcomer as well as the seasoned trapper.