Fur Market Article from NAFA
Fur pelts command record-high prices, The Star Article
John Goddard-Business Reporter

Fur prices continue to hit last year's record-high prices at this season's first European auctions — good news for Canadian trappers, mink farmers and fur-clothing manufacturers.

"The number of customers exceeded all expectations," the world's biggest fur auction house Kopenhagen Fur said of its opener two weeks ago. Helsinki's first auction met similarly high demand. The trend springs from three positive industry developments, says Alan Herscovici, executive vice-president of the Montreal-based Fur Council of Canada. Design innovation, the opening of vast Asian markets, and the fur industry's progress in articulating its side of the ethical debate have coincided, he said this week in a wide-ranging interview.

Q: What are auction houses getting for fur?

A: Farmed mink is the industry benchmark. There are probably 50 million mink skins a year produced globally. Canada produces a little less than 3 million. In the late 1980s, the last time fur prices were so strong, the average mink pelt— averaging the many qualities, types and colours — brought close to $50 (U.S.) In the economic downturn of 1992, mink prices fell as low as $20. In the last couple of years, not only have prices come back but have actually gone past those levels. Last year, the overall average was well over $65. Some mink pelts brought more than $100.

Q: What does that mean for Canadian fur?

A: In 2010, the last year we have complete figures for, total fur exports — pelts and garments — brought more than $450 million. That's up 36 per cent from the year before, more than a third, from $331 million. In the recession of 1992, the figure was $143 million.

Q: What accounts for today's high demand?

A: Several things. One: We have seen totally new markets open up, such as northern China, with its new middle class. Imagine The Bay store in downtown Toronto, the whole store just fur boutiques. There are towns in northern China with several of those. It's hard to believe. China has become one of the biggest consumers of furs and one of the biggest manufacturers of furs, too. Fur manufacturing is labour-intensive and China has low labour costs. China has taken over most of the world's manufacturing and centres such as New York, Montreal, Milan and Frankfurt have been seriously reduced. Markets are also opening up in Korea, where there is a strong fashion industry, and even places like Kazakhstan and Mongolia. Also, Russia, where people have always loved fur, has become a major importer of finished fur products.

Q: What is another reason?

A: Technical and design innovation. Fur is much more lightweight now. It's done by micro-shearing the fur, by making the leather thinner and often by making the furs reversible, with a leather side. You don't have the inner linings of old-fashioned coats, which is what people are looking for because people are dressing sportier, in modern, technical materials that are lighter and a lot less bulky. Sheared mink is a very strong trend.

Q: Are Canadian furriers developing new designs as well?

A: Yes. The Fur Council has created the brand "Beautifully Canadian," with the website www.beautifullycanadian.com, to promote contemporary Canadian design internationally. We're seeing a lot of sheared mink, sheared other furs, and now with accents of big long-hair collars — fox, coyote or beaver.

Q: Haven't animal-rights campaigns tainted fur for European and North American consumers?

A: Ethics are important not only for Europe and North America but for Russia and Asia as well. To put in a plug for the Canadian fur industry, we have some of world's best regulated, best managed, ecologically sustainable, humane trapping and farming practices, and we're doing a better job of telling our side of the story.

Q: What is your side of the story?

A: The World Conservation Union, the World Wildlife Fund, all the major conservation and environmental groups today promote sustainable use of wildlife and animals as a renewable, natural resource. They recognize that humane practices are respected and realize that these PETA (People for the Ethical Treatment of Animals) are totally anti-ecological.

Q: How do you mean "anti-ecological?"

A: It is ironic that we talk today so much about "green" and protecting the planet, yet we have never been less ecological in terms of clothing. We wear clothes that are inexpensive, nice-looking, trendy and thrown away after a couple of seasons, and 80 per cent of this cheap clothing is synthetic. They are like plastic bags. We've cut down on plastic bags but hundreds of millions of metric tonnes are thrown in the trash every year with no recycling program. Fur lasts a long time and at the end of its life it is biodegradable. The fur industry is well regulated, it is sustainable and it is totally in sync with modern environmental thinking.
Trapping Magazines: A Review
Like much of the outdoor sporting world, trapping has its fair share of trade publications.  A large percentage of trappers subscribe to trapping magazines to keep up with the latest news, techniques and equipment.  Like most trappers, I wish I had enough money to subscribe to all of the trapping magazines, but I can't, and you probably can't either.  So I'd like to help by describing each of the available trapping magazines and what you can expect if you subscribe to them.
Trapper & Predator Caller
The Trapper & Predator Caller is currently the leading magazine in the trapping industry.  Founded in 1975, this magazine was originally called "The Trapper", but was later changed to add the predator calling element, which only plays a minor role in overall content.  The magazine is published 10 times per year and is offered with membership to most state trapping associations.  As a result, state trappers association presidents' reports are printed in each issue.
The Trapper & Predator Caller holds a lot of content in its pages.  It's edited by a real pro and great writer, Jim Spencer.  Parker Dozhier also provides the most comprehensive fur market report available, which includes general market trends as well as detailed regional fur prices.  The magazine has added an online presence recently, with a revamped website, a blog, message boards, and other resources.
If I had anything negative to say about T&PC, the ratio of advertising to overall content is pretty high, meaning you have to wade through quite a few ads while reading the magazine.  Some people don't mind this though.  Also, the magazine switched formats a few months back and now sports smaller sized pages that I'm not a big fan of.
Overall, Trapper and Predator Caller is a great trapping magazine and if you're an avid trapper, it's well worth subscribing to.
$18..95 gets you a 1 year subscription (10 issues).  Discounts are available through most state trappers associations.
Fur-Fish-Game
Of all the magazines that highlight trapping, Fur-Fish-Game has by far the largest circulation.  You can find FFG at almost any news stand across the country.  The difference between it and the other trapping magazines, however, is that Fur-Fish-Game focuses on much more than just trapping.  It covers many other niche hunting and fishing topics that don't get much attention in the mainstream hunting and fishing magazines.  Depsite this, FFG sports enough trapping-related articles and information to make it worth subscribing to.  In addition to the reader-submitted articles, the magazine also has a monthly fur market report.  It's only about a page long, but has enough information to keep trappers on top of overall trends in the fur market.
$15.95 buys you a monthly subscription (12 issues per year).
Trapper's Post
Trapper's Post is a brand new trapping magazine started by longtime trapper, writer and artist Bob Noonan from Maine.  Some disclosure here, I have to admit that Trapper's Post is by far my favorite trapping magazine.  It's been interesting to see a new trapping magazine start from scratch and build up a solid following.
The difference I've noticed between Trapper's Post and other trapping magazines is the format and advertising content.  It's easy to read and is absolutely packed with content – i.e. trapping stories, interviews and informative articles.  So far, the advertisement space has been kept to the point where it doesn't interfere with the reading experience.
Since it is only published every two months, Trapper's Post does not have fur market information that's as detailed as Trapper & Predator Caller or Fur-Fish-Game.  Instead, it offers a less detailed fur market section that focuses more on general market conditions.
Trapper's Post features regular columns from some big names in the trapping industry.  Noonan also interviews a noted trapper each month.  Trapper's Post is starting to offer subscriptions as part of trappers association membership in some states, and is publishing those state reports.  I hope they pick up more state associations, but also wouldn't like to see the state reports take the place of content.  Again, the thing I like most about TP is the content.  Flip through the pages and you'll be amazed with the amount of actual trapping articles and information packed into a single issue.
Click here to read an interview I did with Bob Noonan of Trapper's Post.
$21.95 gets you a bimonthly subscription (6 issues per year).  Discounts are offered to members of some state trappers associations.
The Fur Taker
The Fur Taker is a monthly trapping magazine published for members of Fur Takers of America.  If you have the money, FTA is a great group to join.  They work hard to promote trapping and protect our rights as trappers.  They also offer an annual Trappers College that I've heard a lot of good things about.
As far as the magazine, I've read it several times over the years.  It's a good resource for trappers, and is a great benefit for financially supporting a group that supports our trapping heritage.  The circulation and contributors are small, but a lot of sound trapping information can be found here.
FTA membership is $30 annually, which includes 12 issues of The Fur Taker.
American Trapper
American Trapper is also a trapping magazine tied to group membership.  This quarterly publication is sent to members of the National Trappers Association.  The NTA fights hard to protect trapping rights and educate the public about the benefits of trapping.  I've read American Trapper off and on over the years.  It's a great resource, and the benefit of the magazine is just one of many reasons to support the NTA.
NTA membership is $30 annually, which includes four issues of American Trapper.
Trapper's World
Today's Trapper's World magazine is the result of a long history of ups and downs in the trapping publication industry.  Trapper's World has always been a magazine by trappers and for trappers, but has had financial troubles in the past and is less known than the rest of the trapping magazines on the market.
I know Trapper's World best for the big name trappers that have written for it in the past.  I'm not sure what the future holds for Trapper's World, but it might be worth giving the magazine a try.
$19.95 gets you a bimonthly subscription (6 issues per year).
International Trapper
International Trapper magazine is published twice per year by North American Fur Auctions.  The publication is only available to trappers who ship fur to NAFA for sale at auction.  NAFA will deduct $10 each year from your fur check for the subscribtion.  IT is printed on very high quality paper and includes valuable information for trappers, particularly when it comes to fur handling and sales.  Each issue has a theme.
$10 buys an annual subscription (2 issues) for trappers who ship fur to NAFA.
Trap and Trail
Trap and Trail is a small time trapping and hound hunting magazine.  It's currently in the startup phase, offering bimonthly issues, but the editors are hoping to work their way toward a monthly magazine.  The magazine is looking for stories from trappers and offers a free subscription for submitted stories.  I don't know much about Trap and Trail, but it might be worth giving it a try.
$15 buys an annual subscription (6 issues).  Article submission or friend referral can get you a free subscription.
Longliner Times
A self-proclaimed underground trapping publication, Longliner Times was put out by the Predator Control Group for 'hardcore trappers'.  As I understand it, the magazine is no longer running, but back issues are available by visiting the Predator Control Group's website.
In Conclusion
I hope this overview of trapping magazines available on today's market is useful for trappers young and old.  Trappers always strive for more information on the trapping industry, and I do my best to provide some of that here on TrappingToday.com  I invite you to take a look at some of the magazines described above, and provide your own input on their value to you as a trapper.
Here's a recap of the links to each the above trapping magazine websites.
Mountain Lions Moving East?
The Trapper and Predator Caller blog has an interesting recent post about mountain lion sightings increasing in areas where the species was thought not to exist.  More and more sightings are adding to the evidence that the big cats may be expanding their range.
I think it's cool that they may be moving back East where they once were common, but hope government regulations and trapping restrictions don't follow.
Ancient Trapping Techniques
C.J. Williams over at Trapping Supplies Review has an interesting post on some really ancient techniques for trapping animals. C.J. has been doing a great job building this site and has posted some real quality material lately.
Check out the post here.
NAFA Cancels January Sale


This week, North American Fur Auctions announced that it is canceling its January fur sale. The January sale is the first major auction of the year, and fur buyers and trappers from around the world look to this auction to help define the fur market for the rest of the season.
Here's NAFA's official announcement:
December 14, 2009
IMPORTANT NOTICE TO ALL NAFA WILD FUR SHIPPERS

Due to the limited quantities of wild fur expected for our January 11, 2010 auction, NAFA decided today to cancel this auction sale.
For selected articles normally made available in January, interested buyers can contact our Private Treaty Department after January 9, 2010.
All goods received from our wild fur consignors for January and not sold by Private Treaty will be combined with the much larger quantities expected to be received for our March 12–18, 2010 auction, which is guaranteed to attract all the major world fur buyers. We will offer a complete catalogue of well matched lots in large volumes in March. This is what is required to attract the demand and attention we need to start the season.
NAFA is the dominant marketer of Wild Fur, a distinction we take very seriously, and we are determined to re-establish a viable and profitable market in today's fur consuming areas such as China and Russia.
We feel that some improvements due to our marketing efforts will be seen in our March Auction.
So what does this mean for the future of wild fur this season?  I'm not completely sure.  For one thing, it means that trappers haven't been sending furs to NAFA.  These historically low quantities mean that:  1) many trappers aren't getting out and trapping due to an expectation of very low fur prices, and 2) those who are catching fur are holding on to it, waiting for fur prices to rise again.
Given the circumstances, it doesn't look good for fur prices this winter, but there is still a lot of uncertainty in the air.  Who knows what will happen in March?  Historically, NAFA's March sale has really been the big one, but the January sale is usually a good indicator of how the March sale will turn out.
As far as I know, FHA (Fur Harvesters Auctions, NAFA's only close competition) has not canceled their fur sale, so perhaps we can get a better indication of fur prices based on their results.  Who knows, FHA shippers might have better luck with higher fur quantities and more buyers present due to the canceled NAFA sale.
I do know one thing, it's going to be interesting to see what happens at the FHA sale.  I'm not very optimistic about the fur market right now, but you never know what's going to happen in the coming months.
The fur market has experienced some really tough times lately, and I'm not sure that we've seen the worst of it.  But if trappers can weather this storm, things will recover.  There will always be a demand for wild fur.
Take a Kid Trapping
TheSouthern.com has a great local news article about a dad who got back into trapping this season to give his seventh grade twin boys the chance to experience it for the first time.  It's a great story about a family experiencing more together through trapping.
If you've trapped as a child and haven't been into it lately, consider taking your kids out on the trapline.  It's a great way to bond as a family and teach kids values and the ways of the outdoors.
You can read the full story here.
Happy Thanksgiving!
I hope you all have a great Thanksgiving holiday!  Here are a few things I'm thankful for this year:
My job, a beautiful home, great scenery, an excellent (but unfinished) hunting season, living in the best country in the world (despite attempts by our current administration to change that),  a wonderful new fiancee, and…….TRAPPING!  I'm thankful that we have the ability to follow in the footsteps of the pioneer trappers that explored this country, and hope we can preserve that right well into the future.
Well, I'm off to visit family and do some elk hunting.  Hope you are able to get outdoors this Thanksgiving holiday and spend some quality time with family and friends.  My trapline starts next week!
I'm Back!
Wow, it's been a while since I last posted on TrappingToday.com.  Since last May, I've been involved in lots of great things, and more recently, big game hunting has taken up a huge portion of my time.  While I still plan on pursuing big game here in Montana over the next month (I still have two elk tags to fill), I'll also start posting much more frequently here on the site.
The cold weather and shorter days have really started to bring on trapping fever.  My season will start a little later this year, but I'm really excited to get out trapping, and just as excited to share more trapping news and information with you.  And maybe I'll throw in a few hunting posts here and there.  Thanks for reading, and I hope you return to the site often over the next few months.  There's lots more to come!
Connecticut Trapping Info
With the coming threat of a trapping ban in Connecticut, it may be useful to learn a bit more about trapping in the state.
Jeff Serena, of the Connecticut Nature Examiner, provides a great summary of fur trapping in Connecticut.
Alaska Board of Game to Decide on Chugach Wolverine Trapping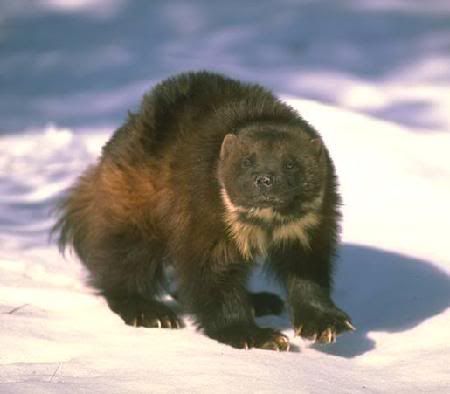 The Alaska Board of Game, which makes decisions on hunting and trapping regulations in the state, began a two-week meeting this past Friday to debate over 200 wildlife management proposals, one of which directly involves wolverine trapping.
Alaska's Chugach State Park, outside of Anchorage, was opened to wolverine trapping in 2007.  Since then, 10 wolverines have been harvested in the area, a number that the Alaska Department of Fish and Game thinks is too many.
A new proposal now in front of the Board of Game would overturn this ruling and again restrict wolverine trapping in the park.
Trappers argue that if harvest were the main concern, the Department should consider shortening the season, rather than eliminating trapping in the park.
After hearing testimony and discussion, the Board is expected to make a decision over the next few days.